Relationships
Simon Plimpton (husband) Lulu (daugther)
Dr. Nell Plimpton is an archaeologist and one of the Righteous 36.
She and her husband, Simon Plimpton, a salesman of restaurant supplies, lost their daughter and she become very depressed and the couple estranged. When her husband got a promotion, they became closer. They had another daughter, Lulu.
In "
Two of a Kind
," she took a flight to Los Angeles to transport a historic artifact. When she was in Chicago talking to her husband on the phone, it was revealed that she could see a Native American camp from the past. She eventually got on a flight and landed in Los Angeles. She gets into a taxi, just as
Guillermo Ortiz
follows her. When she reaches the museum,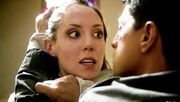 Ortiz attacks her. However, Jake speaks to him with his mind, and Nell as able to escape. She runs into Martin, who is entering the building, and tells him what happened. Later, she is questioned by police and Martin approaches her to say he is glad she was alright. Then, Jake shows her that he in
terpreted the markings on the stone.